How Hunger Relates To: Obesity & Public Health
The Hunger-Obesity Paradox
It is hard for many to believe that there is a hunger problem in America when the same population that is hungry is also often excessively overweight.  This paradox forces us to look at hunger in a different way: not starving, but food insecure.  This means that nearly 50 million people in America have at some point been unsure where their next meal is coming from, don't have enough money to buy the basics and pay rent and utilities, or have trouble locating fresh fruits and vegetables in a foodscape overrun with fast food, convenient stores, and vending machines (Source).
The maps below illustrate how some of the states that have the highest rates of obesity, such as Arkansas and Mississippi, also have food insecurity rates above the national average.  On the flip side, states like Colorado that are more food secure, have lower rates of obesity.
The Food Research and Action Center gives a practical list of some of the reasons why hunger and obesity can co-exist, which are mostly risk factors also associated with poverty.  Here area few:
Limited resources and lack of access to healthy, affordable foods:  Households with limited incomes tend to stretch their budgets by purchasing cheap, energy-dense foods.  These foods tend to be lower in nutritional quality yet due to overconsumption of these calories, are linked to obesity and diabetes.
Fewer opportunities for physical activity:  Food-insecure neighborhoods also have fewer green spaces and recreational facilities leading to more a more sedentary lifestyle, a known risk factor for obesity.
High levels of stress:  All members of low-income families face high levels of stress due to financial and emotional pressures including food insecurity, multiple low-wage jobs, lack of access to health care, poor housing, violence, etc. Stress leads to unhealthful eating patterns, and may also trigger anxiety and depression, both associated with obesity.
Joel Berg, of New York City Coalition Against Hunger sums it up well when he says that "hunger and obesity are often flip sides to the same malnutrition coin" and that both hunger and obesity are symptoms of an underlying root problem: poverty (Source).  Ellen Gustafson, founder of FEED and The 30 Project, and also the keynote speaker at United Way of King County's recent Hunger Action Forum, echoes this point.  Her scope on this paradox is worldwide and her point is also that one billion hungry + one billion overweight = the same problem: lack of access to healthy, nutritious food.  You can view her TED talk below to hear what she has to say.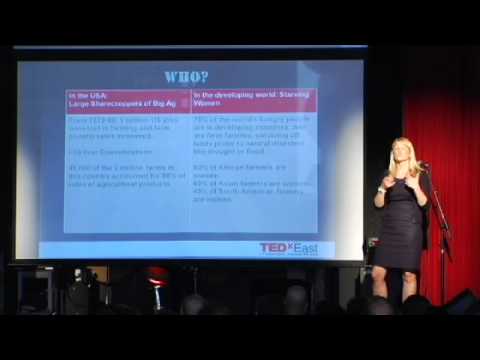 What do you think about the Hunger-Obesity Paradox?